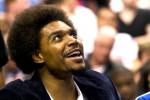 Bynum Out Indefinitely Due to Ongoing Knee Injuries
UPDATE: Wednesday, November 21 at 8:59 a.m. ET
A surgeon outside of the 76ers organization commenting on Andrew Bynum's situation believes the 76ers star could face season-ending knee surgery, according to The News Journal's
Jason Wolf
.
The truth is that the 7-foot, 285-pound former All-Star center who has yet to play a game as a Sixer may be out for the season and will learn in December, at the earliest, whether he'll require surgery that could sideline him for up to a year...
http://bleacherreport.com/articles/1373608-andrew-bynum-injury-updates-on-76ers-stars-knee-injury?utm_source=newsletter&utm_medium=newsletter&utm_campaign=nba
Not that it matters, but I told em' so....
I am a lifelong Laker fan. I grew up playing HS ball when Magic started showtime. I bleed purple and gold. And I never bought Andrew Bynum. I gave him his props for playing hurt against the Celtics in the revenge finals. But other than his rookie highlight throwing down on Shaq I just really never bought the guy. Before the 3 pointer stupidity and whatever else during and before his All-star year I always thought. Yeah when you can get him on the court he's great but how often is that going to happen. That is a lot of body to lug around and he never seemed serious enough about the game to do what he had to take care of said big body. I am not hating the guy or anything. But I am glad the 76er's didn't seem this coming and took the big man off our hands.
Dwight Howard
#12
Center
E-mail photo
|
Buy photos
|
Gallery
2012-13 StatisticsPPG18.0RPG10.60APG2.1EFF+ 21.79
Born: Dec 8, 1985
Height: 6-11 / 2.11
Weight: 265 lbs. / 120.2 kg.
Prior to NBA / Country:
SW Atlanta Christian Academy (GA) / USA
Years Pro: 8
SEASON AVERAGES
Season Team G GS MPG FG% 3p% FT% OFF DEF RPG APG SPG BPG TO PF PPG
12-13 LAL 14 14 36.5 0.588 0.000 0.497 3.4 7.3 10.6 2.1 1.4 2.7 3.3 3.7 18.0
Career 635 634 36.2 0.578 0.030 0.585 3.6 9.3 12.9 1.5 1.0 2.2 3.1 3.2 18.4
http://www.nba.com/playerfile/dwight_howard/index.html
Questions about Dwight coming back from back surgery seem pretty distant at this time. Without him at 100% he is still doing pretty well. Averaging 18-10 (only 2 boards under his career ave). I'll take it. He make like to have fun but he takes the game seriously and will only get better as he heals and when Steve Nash gets healthy. I am sorry for Bynum's continued knee problems. I wish him no ill. But as a Laker fan I am glad the 6'ers got the front and we got the center...
GOD BLESS KEVIN McHALE AND FAMILY AS THEY MOURN THE LOSS OF SASHA McHALE